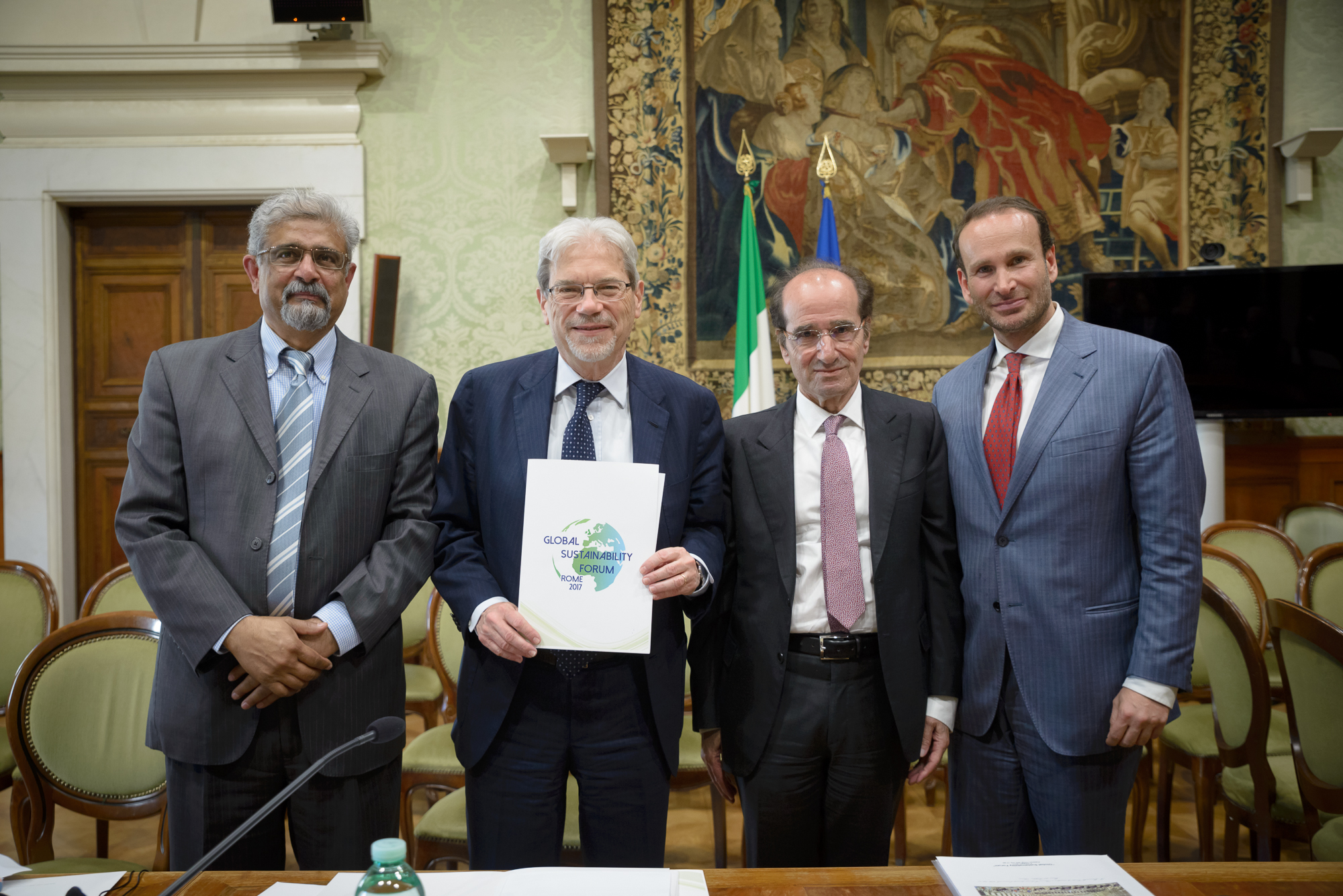 PREAMBLE
This declaration is a call for action for Governments, the Private Sector and the Civil Society. Sustainability represents a global challenge which requires tangible actions to be addressed in its multiple dimensions.
It is a time of unprecedented opportunities as significant progress has been made in challenges. Scientific and technological innovations and human progress have transformed the life of millions of people. The Information and communication technology has created a global inter-connectedness which has a great potential to accelerate human progress.
DECLARATION
1. The United Nations 2030 Agenda for sustainable development, which identifies 17 Sustainable Development Goals and 169 targets, and the Paris Agreement have outlined a global strategic framework for sustainability in all its three dimensions: economic, social, and environmental. We now have the challenge, both individually and collectively, to lead on the next concrete steps to meet the 2030 sustainability targets.
2. The 2030 global agenda is universal and represents inter-connectedness. We need to learn from each other to ensure a fair and job-creating economic growth and define new social provisions that protect both people and the environment. We need development which is pro-people, pro-jobs and pro-environment.
3. Ensuring economic, social and environmental sustainability requires a reconsideration of policies. Inequality of outcome and inequality of opportunity, unemployment and the lack of jobs, need to be addressed if society is to be sustained. Recent data show that one in ten people lives with less than $2 per day, while eight men own as much wealth as the 3.6 billion people who make up for the poorest in the world. The environment has to be protected and economies put on a low carbon pathway to reaffirm the need to live in harmony with nature. We require "people first" policies to meet these challenges.
4. The first UNDP Human Development Report in 1990 begun with the evocative sentence: "people are the real wealth of nations". This is an unambiguous reference to our call for "people first" policies. We propose to evaluate the impact of policies primarily on human well-being. We call for the harmonisation of data collection techniques of non-monetary variables in order to be capable of assessing these aspects of policies and compare countries. Ranking based on several dimensions, such has those based on the UN Human Development Index, can foster competition among countries in reaching sustainable development objectives, ultimately resulting in the enhancement of people's well-being.
5. We recommend the implementation of "people first" policies such as the adoption of pro-people budgets and the treatment of income support, health and education expenditures as essential investments to promote growth and reduce inequality. Education plays a leading role helping people with the acquisition of the knowledge and skills needed to exploit opportunities and fully participate in society.
6. Traditional manufacturing and production methods are in rapid transformation. Intense global competition, automation, digitalization and robotization of labor, and the push towards relocation of industry to low-wage countries represent a threat to social sustainability. Populist movements have been on the rise in reaction to these phenomena which, not being channeled in a sustainable path, have led to an impoverishment of many cohorts of workers. We recognize that new technologies if steered in the proper direction can help in reaching a sustainable world and call for the transformation of this threat in opportunity. In light of this, we recommend the acceleration of public-private partnerships including business and labor organizations at national and international levels (e.g. the European Union). We praise the efforts of many international firms and banks which, by developing sustainable high quality products and services, are not only improving their economic returns but also people's lives and implementing Responsible Business practices.
7. The world has moved beyond simple acknowledgment that climate change and environmental degradation pose significant risks to humanity and the planet's ecosystems. Clearly the COP21 held in Paris has signaled a determination to transition to a low-carbon global economy. The transition to an affordable, reliable, and sustainable energy system can be accelerated by investing in renewable energy resources, prioritizing energy efficient practices, and adopting clean energy technologies and infrastructure. We call for the widest possible international cooperation aimed at accelerating the reduction of global greenhouse gas emissions and addressing adaptation to the adverse impacts of climate change.
8. Climate change is also forcing biodiversity to adapt either through shifting habitat, changing life cycles, or the development of new physical traits. If not properly dealt with, climate change will become the main source of biodiversity and ecosystem loss in the near future, according to the UN Convention on Biological Diversity. We are convinced that new instruments to face this challenge have to be found and developed.
9. Mitigation and adaptation to ensure sustainability require new financial models both to assist developing countries in undertaking these activities, and to stimulate developed countries to take on more responsibilities and play a leading role in decreasing greenhouse gas emissions. We believe that institutional and private capital investments in renewables and regulatory and policy interventions are needed. International public and private finance can play an important role in complementing the efforts of countries to mobilize public resources domestically, especially in the poorest and most vulnerable countries with limited domestic resources.
10. We have to develop new ecosystems that connect leading think tanks with socially driven entrepreneurship. We need young leaders to take on compelling business ideas that help society as well. At the Forum, we have taken important steps in this area. Our partner LUISS University has undertaken to play a leading role in developing a new hub that embraces socially responsible roles with new business and profit driven opportunities. We praise these initiatives and call on Universities and Businesses to fund university spin-offs in order to fully exploit the breakthrough potential of research carried out in the academia.
11. A new perspective, new policies and new partnerships are required. The view that sustainability should drive our long-term effort was widely agreed upon by leading nations at the 2016 G-20 meeting in China, in addition to agreed actions on global economic and policy coordination. The G-7 Summit chaired by Italy needs to take this view further and adopt more 'people driven' policies and measures. Italy has a pivotal role to play. Host of the G-7 summit in May and member of the UN Security Council, Italy has committed itself to make a presentation on the SDGs at the High Level Political Forum in July at the UN. This Global Sustainability Forum represents a further opportunity for a continuing contribution to these critical global concerns.
12. In the end, given that GSForum is dedicated to these objectives, we have to adopt of pro-people, pro-jobs and pro-environment policies and measures to achieve sustainable development.