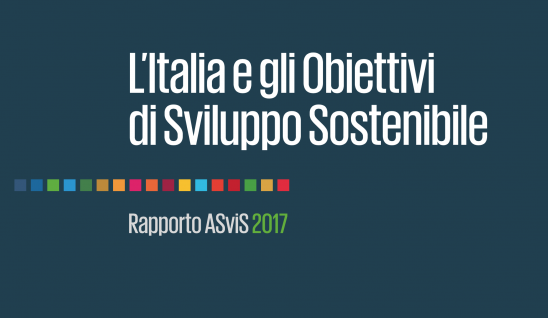 ASviS Report 2017 - Italy and the SDGs

Download the Executive Summary (english) by Enrico Giovannini, ASviS Spokesman here: http://www.asvis.it/public/asvis/files/Rapporto_ASviS_2017/Executive_summary_ASviS_Report.pdf
Download the Report here: http://www.asvis.it/public/asvis/files/Rapporto_ASviS_2017/REPORT_ASviS_2017_WEB.pdf
ASviS's 2017 Report highlights that, notwithstanding the progress made in certain areas throughout the last few years, Italy continues to fall short of a condition of sustainable development, as defined by the 2030 Agenda for sustainable development, adopted on September 25th 2015 by 193 UN countries. The country will therefore not be able to achieve the Targets set for 2020, nor those for 2030, unless it radically alters its development model. In the absence of said shift, although there seems to have been an upturn of economic growth as measured by the Gross domestic product, phenomena such as poverty, inequalities and environmental degradation will not be drastically reduced as envisaged by the 2030 Agenda.
At the international level, the past year has seen the proliferation of research, formal commitments and concrete actions by governments, the business sector and civil society organizations to achieve the Agenda's 17 Sustainable Development Goals (SDGs) by 2030. Such activities (from the ratification of the Paris Agreement on climate change, to the renewed commitment to the 2030 Agenda in the context of the Italian presidency of the G7 and the German presidency of the G20) brought the 2030 Agenda and the SDGs on center stage, turning them, in less than two years, in a common benchmark for action at global level.
Among the largest geo-political areas of the world, the European Union, whose status in terms of wellbeing and environmental quality is actually relatively advanced, does not seem to have achieved the necessary changes to place the SDGs at the heart of its analytical and political processes. Because of this, ASviS and other civil society organizations have signed the document Transforming Our Europe, demanding a more democratic, just and sustainable Europe and offering a "Sixth scenario" in response to the five advanced by the European Commission in its White Paper on the Future of Europe, whose proposals on the integration of the SDGs in the governance of European policies are expected to be implemented in the spring of 2018.
To achieve said changes, ASviS will work towards mobilizing political parties towards including the issues of the 2030 Agenda into their electoral programs and advancing concrete policy proposals to achieve the 17 SDGs. Moreover, the Alliance will work with the entrepreneurial organizations who signed the "Milan Charter" to help the entire Italian productive system understand the new perspective and the business opportunities tied to the implementation of the 2030 Agenda. Lastly, ASviS will continue collaborating with the Government and the Italian Network of Universities for Sustainable Development to develop an extensive sustainable development education program.