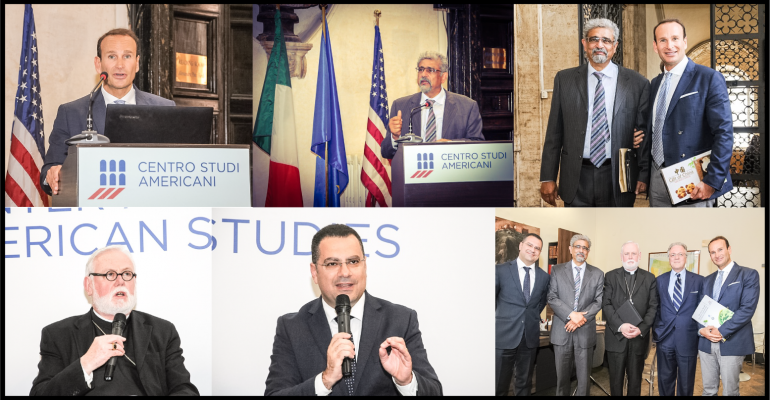 The Birth of GLOBAL SUSTAINABILITY FORUM
On May 11th, Global Sustainability Forum has been officially registered as a non-profit organization in Rome, with its headquarter in Piazza del Popolo, 3.
GSF is chaired by Khalid Malik, former Director of the Human Development Report to the United Nations Development Programme, who appointed Valerio De Luca, President of AISES Academy, as Executive Director, Jean-Paul Fitoussi, OECD High Level Expert Group on the measurement of Economic Performance and Social Progress, and Pierpaolo Abet, CEO of Universal Trust, as members of the Executive Board. GSF is an high-level initiative that aims at stimulating debate on new ideas and pragmatic solutions in order to address shared global challenges and to develop responsible socio-economic engagements, through the building of an effective bridge among leaders, civil society, media and young people. The first meeting will be held in Rome at the beginning of 2017. It will bring the World into Rome and Rome to the World.
Then GSF has been launched and presented by Khalid Malik on May 10th during the High Level Roundtable "The Challenges of the 2030 Agenda for Sustainable Development: from Agreement to Global Action" organized by AISES and the Center of American Studies in the presence of important participants and speakers such as P. Gallagher, Secretary for relations with States at Holy See, H. Abouyoub, Ambassador of the Kingdom of Morocco, A. Husain Chef Economist World Food Programme - UN, S. Marguccio, Diplomatic Counselor of the Ministry of Italian Environment, A. Riccaboni, Rector of the University of Siena and Chair of the UN SDSN - MED and F. Confuorti, President and CEO of Advantage Financial. The Roundtable was preceded by a lunch with selected multi-national companies. The GSF was announced by Valerio De Luca to Pope Francis on April 27th during the Audience at St. Peter Square.