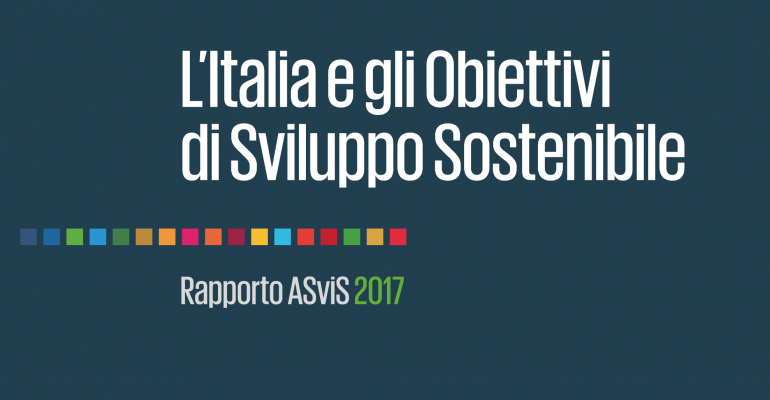 ASviS Report 2017- Italy and the SDGs
The ASviS 2017 Report, realized thanks to the contribution of its more than 170 Adherents, presents the current position of Italy with respect to the SDGs and draws scenarios for the evolution of our country by 2030 according to the different policies adopted.
During the event, which will be held on Thursday 28 September at 10:30 am at the Chamber of Deputies (Aula del Palazzo dei Gruppi parlamentari), will be illustrated the analysis of the economic, social and environmental dimensions of sustainable development, policies conducted in last year, also in the light of the synthetic statistical indicators for goals developed by the ASviS (a unicum on the international scene) and presented for the first time in the Report, and the policy proposals to be followed will be described, starting with the next Law on Balance. Thanks to the use of an innovative analytical model, for the first time, the foreseeable development paths for Italy will be shown here by 2030 on the basis of the different policies adopted.
Finally, the new ASviS database will be presented, based on over 170 statistical indicators, a permanent interactive tool on Sustainable Development Goals, which can be consulted on-line free of charge. The database can be a key resource for journalists and other users, as it uses graphical analysis systems to showcase values and trends of indicators, historical series, make comparisons between regions and macroregions on multiple also indicators of different Goals, including composite indicators of the 17 Sustainable Development Goals calculated by the ASviS.
The meeting will begin with the greeting of the Vice-President of the Chamber of Deputies Marina Sereni and will be introduced by Pierluigi Stefanini, President of the ASviS. The Alliance spokesman Enrico Giovannini will present the report, and his report will follow the intervention of Pier Carlo Padoan Minister of Economy and Finance to present the Government's position.
Download the Report here: http://www.asvis.it/public/asvis/files/Rapporto_ASviS_2017/REPORT_ASviS_2017_WEB.pdf